A Commitment to Workforce Development Starts with Education
Workforce and economic development go hand-in-hand. New Mexico understands that education edifies workforce development and workforce development edifies economic development. Ensuring the two work together makes for a greater quality of life.
September was National Workforce Development Month. As we proceed into the month of October, we continue to emphasize its importance and acknowledge development professionals. The State of New Mexico is dedicated to ongoing efforts to lay the foundation for the future of our students. The State of New Mexico's Public Education Department created the College and Career Readiness Bureau, which has programs geared toward equipping students to enter into the workforce with the proper academic and technical skills that are a necessity for successful completion within the job market.
Workforce Development Resources
Whether someone is seeking vocational training, internships, temporary hires, or regular employment, there are resources at your fingertips:
New Mexico Workforce Connection with offices in Roswell and Dexter
New Mexico Career Pathways
Eastern New Mexico University - Roswell
Eastern Workforce Development Board
Roswell Job Corps Center
New Mexico Youth Challenge Academy - Roswell
New Mexico Military Institute - Roswell
RCCEDC's Personal Commitment to Workforce Development
As an economic development organization, Roswell-Chaves County Economic Development Corp (RCCEDC) avidly works to connect trained and prepared students with top-quality employers while recruiting new, quality businesses to Chaves County.
RCCEDC is a strong partner with Eastern NM University - Roswell (ENMU-R) and all four public school districts in Chaves County. ENMU-R has over 40 programs of study to teach, train, and prepare students to become able employees. Our public schools have 16 fields of study called Career Clusters structured around New Mexico's needs and demands:
Agriculture, Food & Natural Resources
Architecture & Construction
Arts, Audio/Video Technology & Communications
Business, Management & Administration
Education & Training
Finance
Government & Public Administration
Health Science
Hospitality & Tourism
Human Services
Information Technology
Law, Publish Safety, Corrections & Security
Manufacturing
Marketing, Sales & Service
Science, Technology, Engineering & Mathematics
Transportation, Distribution & Logistics
Other ways the RCCEDC helps bridge the gap between education and industry:
Host job fairs for local companies
Offer pre-apprenticeship for high school students
Offer guidance & assistance in ensuring local aviation and advanced manufacturing programs have the latest tools and technologies in place
Maintains an updated job posting section on its website
Is an established partner with the Roswell Chamber of Commerce and the Eastern Area Workforce Development Board
It's Easy to Grow Your Business Here
Businesses interested in relocation or expansion should consider doing so in New Mexico, namely Chaves County. With an eager workforce and room for growth for businesses, Chaves County is an ideal location to enhance your business goals.
Businesses already established within Chaves County can benefit from RCCEDC assisting their next job fair(s). The RCCEDC consists of skilled professionals with years of experience and advice for driving the success of businesses, whether established, small or startup. For questions, please feel free to contact RCCEDC.
.
More Topics
The U.S. Department of Agriculture (USDA) today announced that it will begin issuing more than $1.75 billion in emergency relief payments to eligible farmers and livestock producers. These much-needed payments are helping farming and ranching operations recover following natural disasters in 2020, 2021 and 2022."USDA provides substantial economic support for...
In today's world, the concept of sustainable tourism has gained significant traction. As travelers increasingly seek authentic and responsible experiences, the tourism industry has a unique opportunity to drive positive change while ensuring long-term success. To successfully navigate the path to sustainable tourism, professionals in the tourism and Convention and...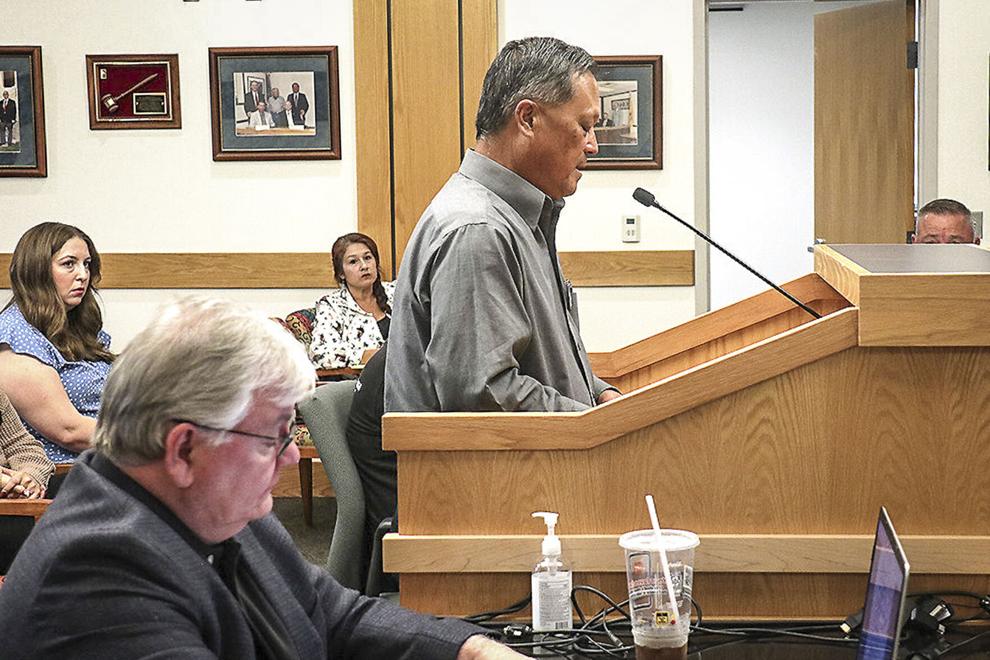 Terri Harber | Roswell Daily RecordMike Espiritu, president and CEO of the Roswell-Chaves County Economic Development Corporation, talked to Chaves County Commissioners on Thursday about continuing efforts to bring the National Championship Air Races and Air Show to Roswell and the Roswell Air Center.Click here to read more>>